"Ella Sue lived on a small traditional Amish farm with her parents, three brothers and little sister. She had never imagined a life different than the life she had on the farm. She never wanted anything more. Everything changed when her father was attacked and left for dead one night, bringing the vampire fever to her family, changing their lives forever.
Her father's boyhood dreams of space planted a seed of hope in their broken lives, but their ties to the farm and the only lifestyle they ever knew were hard to escape. How much would their lives change as a result of this terrible attack?"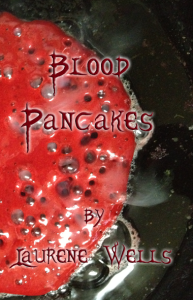 Blood Pancakes is book one in a Christian speculative fiction novel series about Amish Vampires. The novel won the 2011 NaNoWriMo challenge for writing 50,000 words in a month, and was a "topic challenge" given by Jeff Gerke. Laurene decided to self publish her book in November 2014 shortly after her father passed away. Waiting for the world's way of doing things was preventing anyone from having the opportunity to read her book, her father never did get to read it, so she chose the self-publishing method in hopes of accomplishing God's way of releasing the book to the public. Blood Pancakes is available in both print and digital formats from a variety of distribution sources.
CreateSpace https://www.createspace.com/5117104
Amazon Print http://www.amazon.com/Blood-Pancakes-1/dp/1503312909
Amazon Kindle http://www.amazon.com/Blood-Pancakes-Book-ebook/dp/B00RR7VF3K
Barnes & Noble http://www.barnesandnoble.com/w/blood-pancakes-laurene-wells/1120936614
Book two won the 2012 NaNoWriMo challenge and is anticipated to be released in 2015. She plans to self publish book to as well.