Update: May 13, 2017
We originally set up the Goat Cam so people could watch Mocha in her stall as we all awaited the birth of her babies. The twins were born March 14 (Pi Day!) and are doing awesome. They spend most of their time in the pasture now so we don't see them in their stall very often. We haven't had the goat cam streaming live to the internet for a couple of weeks now. If you would like to see the babies romping and playing in the pasture please contribute to the funding of our goat cam. Right now it is not feasible for us to set up a weatherproof camera that can withstand the 30 mph winds that blow through here without financial support from our fans. So please, if you like the Goat Cam, vote with your dollars to help us keep it up! God bless you.
Published on: Mar 12, 2017 @ 04:18
We have spent several days fighting with technology much more than seems reasonable to get this Goat Cam working. http://www.livestream.tinyzoo.com/2017/03/11/goat-cam/ We are waiting for Mocha to have her baby. She was exhibiting signs of early labor in the afternoon of March 11th, so I sat in the barn with her a few hours. Ron finally was able to rig a way to get the Goat Cam working after dinner. This seemed to help Mocha relax because my being there was stressing her a little bit, so now we can watch her and she doesn't know we are watching. I cross posted the stream from our LAN to Twitch using screencapture with Xsplit.  Hopefully we will see a baby goat soon! I don't know how long we will be able to maintain this setup with our current equipment. If you enjoy the Goat Cam please consider donating to help us keep it permanent!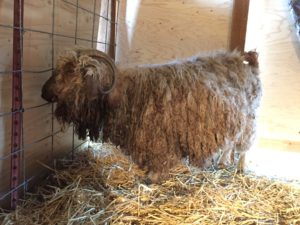 Our goat cam and this website operates on prayer and blessings. We appreciate any financial blessing you can contribute! Thanks for visiting!