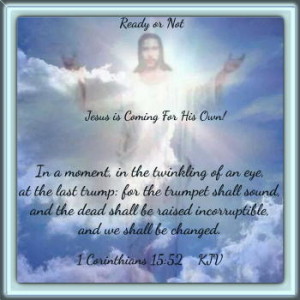 So you're a Christian. You're absolutely sure that if Jesus were to come back tomorrow, or next month, or next year, or whenever, that you would be meeting him in the sky. But what about your loved ones who don't believe in Jesus? What about them? You probably won't even get a chance to say goodbye. The Bible says in 1 Corinthians 15:52 "In a moment, in the twinkling of an eye, at the last trump: for the trumpet shall sound, and the dead shall be raised incorruptible, and we shall be changed."
That sounds pretty sudden. There won't be any more time left to explain. Not like you haven't tried already a thousand times. They never listened before because they didn't believe it was really true. But you know it is true and you want to leave instructions for them, a note that will help them get through the next 7 years of tribulation without you.
That's what I was prompted to write. This is a short guide to help my loved ones who may get left behind be able to come to terms with what has happened. I'm sharing it here with you now. It's written in a generic way so that it can be shared with anyone. You can share it too.
I needed a way to distribute it so that I could share it with others without any cost overhead, and I wanted to get this out right away. So I'm offering it as a download. Then you can print as many copies as you like.  It is only 4 pages so it isn't really worth putting through the whole printing house publishing process. It's just a short letter you can share. If you are able to contribute, please consider donating whatever you are able to afford to offset website costs and compensate me for my time. Thank you. No donation is required to download the files.
Download the letter here. It is available in standard letter size and legal size for printing purposes.
Standard Letter size: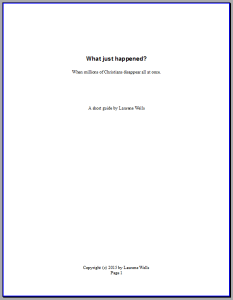 Legal size: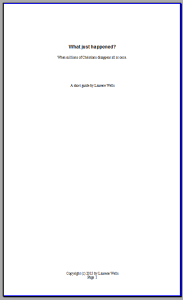 If you have trouble downloading the file you can right click the image and choose "Save as" to download it and save it to your hard drive. It is in PDF format. You will need Adobe Acrobat or Acrobat Reader to view the file.